What Are Aluminum Signs?
Our aluminum signs are made of two pre-painted sheets of .008″ aluminum with a solid polyethylene core (for a total thickness of approximately 1/13 inches). They are weather resistant and work great for a variety of uses including property, retail, manufacturing, and real estate signage.
Options for your aluminum signs can include cut to shape signs, drilled holes for easy hanging, and single or double-sided printing.
Common sizes for aluminum signs include: 12″x12, 24″x6″, 18″x24″, 2'x2′, 4'x4′ and more.

Weather Resistant
Our aluminum signs are intended to be used both indoors and outdoors. Though there is no laminate covering, they are weather resistant, will not rust, and will stand the test of time no matter where you use them. These 13.5 gauge metal signs are thick enough to be durable but thin enough to be gorgeous no matter the setting.
Custom Shape Options
Your aluminum sign can be cut to shape in several different ways. Our Custom shape option cuts your sign to the exact edge that you want. Our Custom with Border option likewise cuts your sign to a specific shape but leaves a small border around the edge of your sign. You can also choose to have your aluminum sign cut with rounded corners or as a circle/oval. All of these options can be selected on our design tool during the ordering process.
Installation
Aluminum signage can be hung, installed on a wall or placed in stands or frames. If optional drilled holes aren't selected, holes can be easily drilled using a metal drill bit. Use rope, string, or bungees to hang, use screws with washers to attach to wood or concrete or use nuts and bolts to attach to posts.
Care
Simply wipe your aluminum signs with soap and water using a non-abrasive cloth. To keep the signs from denting or warping, do not install them where heavy winds could blow them into other objects.
What Are Brushed Aluminum Signs?
Brushed aluminum signs, the ultimate in durability and aesthetics, are made by printing any image, graphic, or design directly onto a 3mm brushed aluminum e-panel material. This material has a brushed face and is composed of two sheets of aluminum with a reinforced polyethylene core. This makeup allows for maximum durability while providing the appearance of stainless steel at a fraction of the price.
Designed for both internal and external use, brushed aluminum signs are commonly used to display business names, logos, suite numbers, titles, and general information. They are great for lobby and receptionist areas, stores, waiting rooms, internal offices, hallways, bathrooms, and more. Brushed aluminum signs are also popular as restroom, exit, handicap, and maximum occupancy signs.
What are Reflective Aluminum Signs?
Reflective aluminum signs are metal signs with a reflective nature, allowing them to be visible both day and night. The sign itself is composed of an inner polyethylene core sandwiched between two sheets of .008″ aluminum (providing maximum durability). An Engineer Grade reflective vinyl overlay is then applied to the face of the sign, giving the sign a level of reflectivity that can last over 5 years.
These signs are most commonly used outdoors and work great as parking signs, as they meet the requirements set forth by the DOT regarding parking signage. They can also be used as non-critical street/road signs, no trespassing signs, address signs, security/surveillance signs, safety and regulation signs, real estate signs, property signs, directional signs and more.
What Are Yard Signs?
Our 4mm corrugated plastic yard signs with vertical fluting (fluting is vertical up to 48") offer a durable and versatile outdoor signage solution. Yard signs can be displayed with optional wire stakes added during the order process, installed in frames (available for 24″x18″ yard signs common to real estate uses) or hung or propped in a variety of ways.
Yard signs are most commonly used in lawns and alongside roads as political advertising, business services promotion, real estate signage and more. They also work great as informational signs, yard sale signs, announcements, and for directing attendees to weddings and other events.
Yard signs can be single or double-sided, cut to shape and have wire stakes added for display purposes.
The most common sizes include: 24″x6″, 24″x18″, 18″x12″, 36″x18″, 2'x2′, 4'x4′.
Display Options
Our yard signs can be displayed in a variety of ways, with each providing an easy way to effectively promote your business or event.
Custom Shape Options
Your custom yard sign can be cut to shape in two different ways. Our Custom with Border shape option cuts your sign to a specific shape but leaves a small border around the edge of your sign. Our Custom shape option cuts your sign to the exact edge that you want. Both of these options can be selected on our design tool during the ordering process. Additional shape options include Square/Rectangle, Rounded Corners (1″ radius), and Circle/Oval.
Double Sided Printing
Your yard signs can be single or double-sided depending on your needs. Both of these additional options can be selected on the design tool or communicated to one of our professional designers in order to get that pesky double sided arrow facing the right direction regardless of which side it is viewed from.
What Are Plastic Signs?
Our plastic signs are the perfect combination of performance, affordability, and versatility. Designed to be durable enough to be used outdoors, yet an affordable alternative to our more rigid signs (see below), these signs can last for years with the proper care and storage. Fabricated from naturally-occurring plastic compounds, these matte finish signs can be used for interior or exterior applications as directional signage, architectural signage, real estate signage, trade show signage, giant checks and more.
Plastic signs are great for mounting against a wall, hanging outside a storefront, and a variety of other display options. Our plastic signs can be contour cut to virtually any shape, be single or double sided, are eco-friendly and recyclable, and are best suited for larger signs and fonts.
Rigid Sign Options
With different materials, thicknesses, rigidity, cost, and end uses it can be difficult to know which sign is best for you. Use this quick primer on rigid signs to make sure you're getting the sign best suited to your needs.
*Rigidity graded on a scale of 1-5 with 5 representing the most rigid material. Rigidity is rated relative only to the other materials in the comparison table.
**Pricing based on a single-sided 12"x12" sign with default options included.
Plastic Signs Features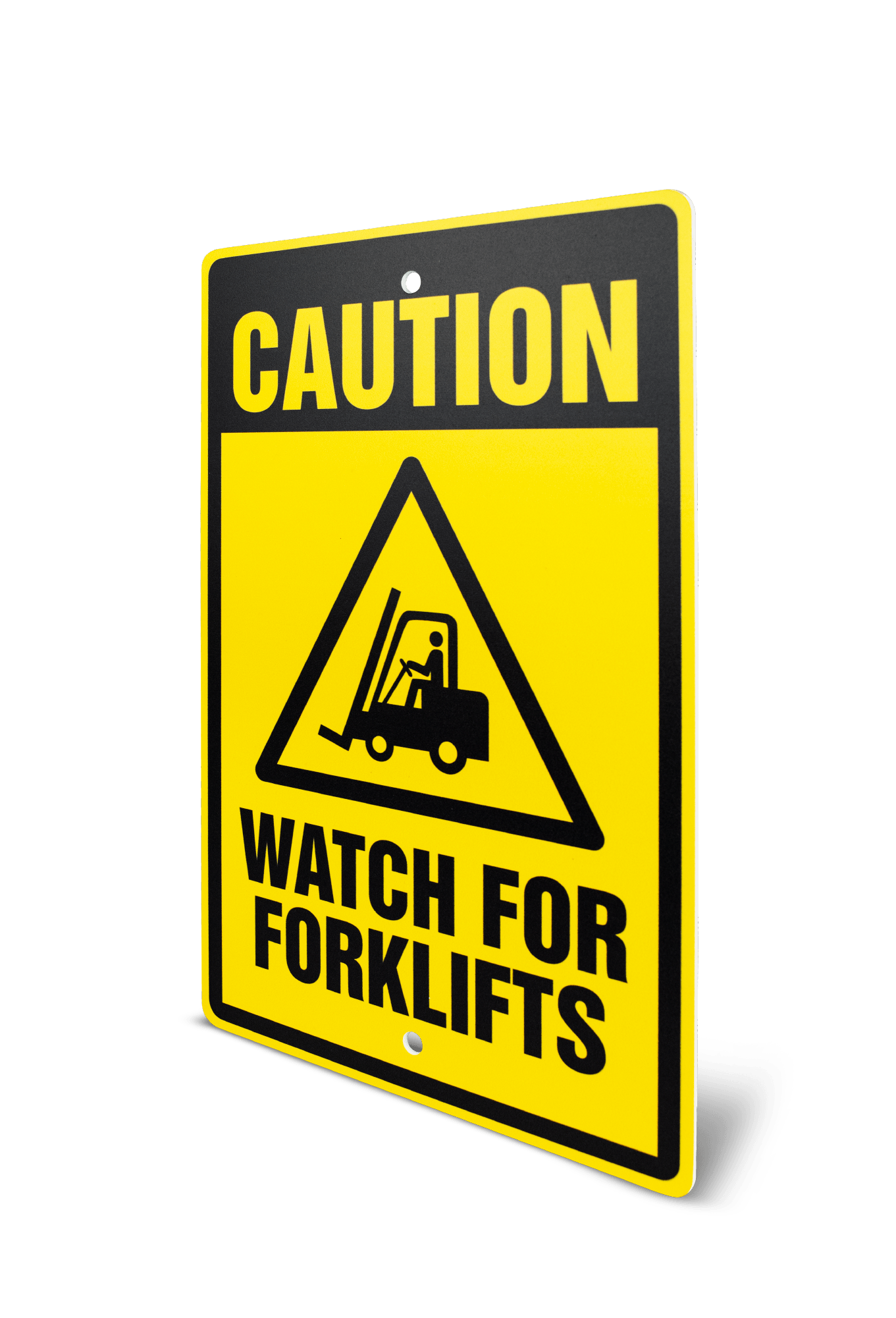 Affordability:

Get affordable and versatile signage for a fraction of the cost of other more rigid signage options.




Indoor/ Outdoor:

Inside or outside your plastic signs can last for years to come with proper care and maintenance




Eco-Friendly:

Because our plastic signs are made of materials that derive from naturally occurring organic compounds, they are both eco-friendly and fully recyclable.




Full Color:

Printed full color with UV ink your custom plastic signs will have vibrant designs that showcase your brand and business.
Customization Options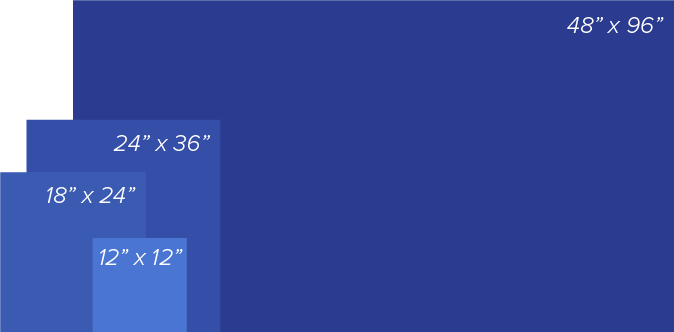 Custom Sizes
From 4" x 4" to 48" x 96" and anything in between, choose the custom size right for you!
For the clearest printing we recommend signs greater than 12"x12" and a font size of at least 22pt. Signs will look their best from 4 or more feet away.
Custom Shapes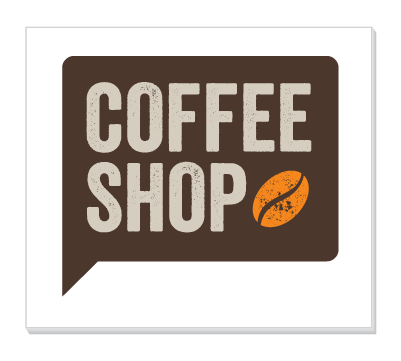 Square/Rectangle
Your sign will be cut as a standard square or rectangle at the size you have selected.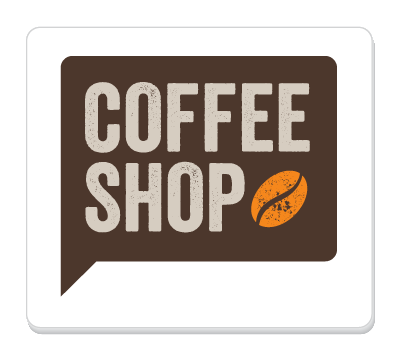 Rounded Corners
The sharp corners of your sign will be rounded off (at either a 1/4″ or 1″ radius) for a safe, clean look.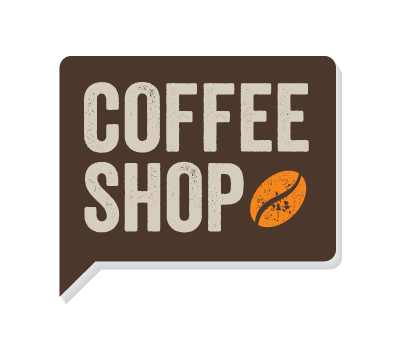 Custom
Your sign will be cut to a custom shape to match your design.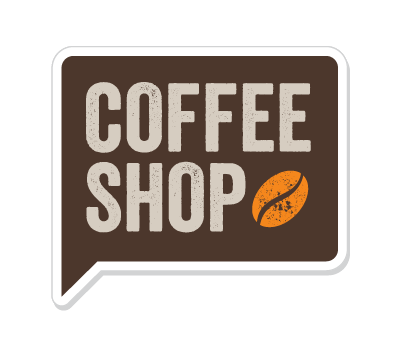 Custom with Border
Your sign will be cut to a custom shape, leaving a border of material around the edges.
What Are Foam Board Signs?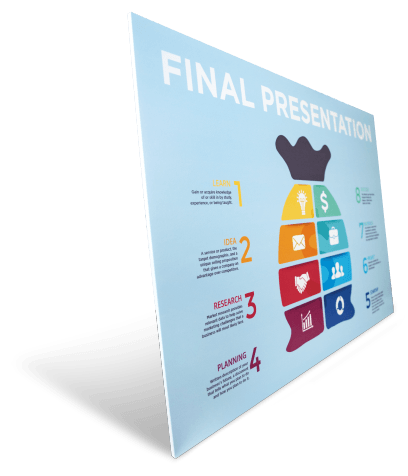 Foam board (also known as "foamcore") signs are the perfect marriage between portable and professional. Retaining the same performance properties as standard foam board, our 5mm foam board signs are directly printed on styrene foam with a paper face on either side.
Custom foam board signs are great as visual aids during presentations, as signage to let customers know of ongoing specials, as point-of-sale displays or virtually any other indoor signage application.
Foam Board Features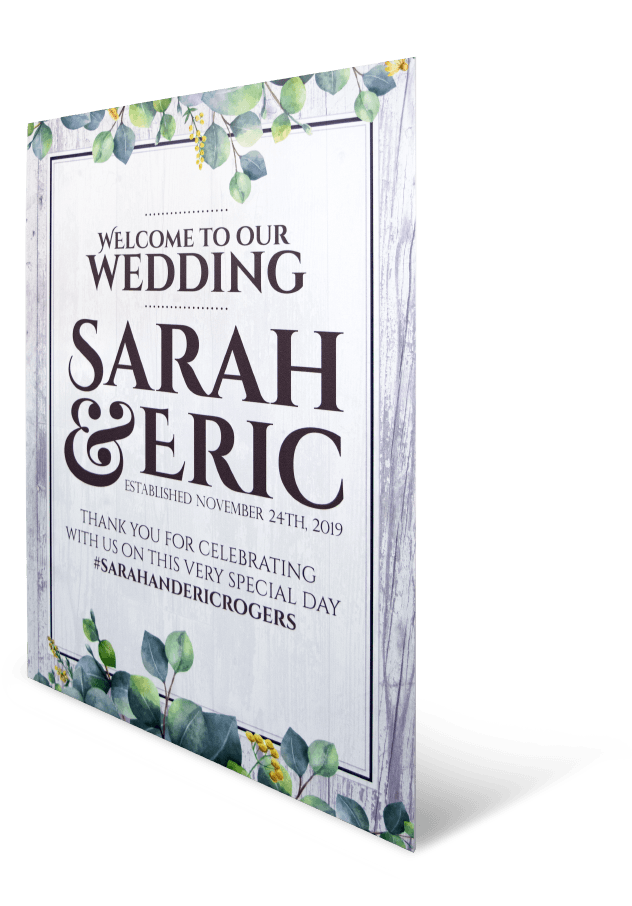 What Are A-Frames?
A-Frames, also known as sandwich board signs, are an easy and affordable way to advertise your business or event. The durable thick plastic frame allows them to be placed both indoors and outdoors in any conditions except extreme weather. They are also extremely easy to set up, take down, and move from one location to another as needed.
Our Standard A-frame comes with permanent decals that are placed directly on either side of the frame. Additional or replacement permanent decals decals can be applied directly on top of previous decals if you need to change messaging. Our Premium A-frame comes with corrugated plastic inserts that easily slide in and out of the A-frame using tabs on the sides to keep them in place. Order multiple signs and change messaging in a matter of seconds as often as you want!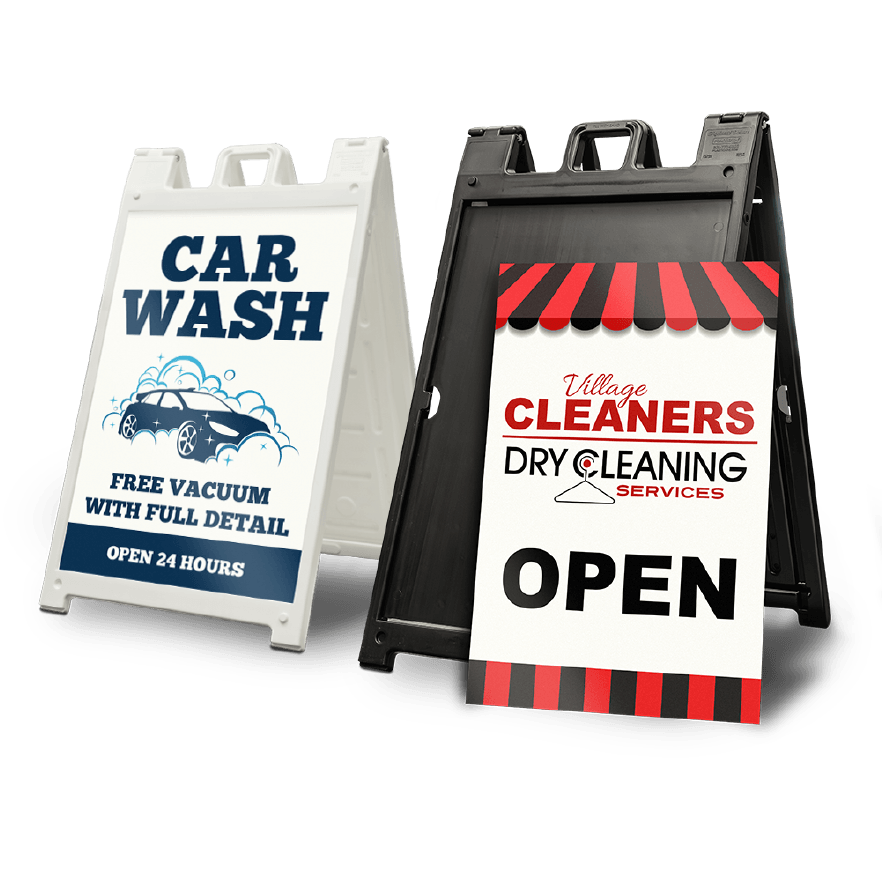 What are Falconboard Signs?
Falconboard signs are a durable interior sign that can be used for a variety of purposes. The construction of the material is comprised from a kraft honeycomb core sandwiched between two white cardstock paper faces. Falconboard signs are most commonly used as point of purchase display, retail graphics and exhibits, mounted displays, trade show graphics, presentation boards, and other interior displays.
Falconboard is ½" thick and is great for custom shapes and sizes. The thickness not only provides a good rigid print surface, but also makes it easy to display in several ways including mounting, hanging from drilled holes or building a display structure from multiple printed pieces. Digital UV printing on falconboard signs means that no matter how many colors or how detailed your print design, it will come out crisp and beautiful everytime!
Falconboard Features
100% Recyclable &
Environmentally Friendly

Feel good about your branded
displays knowing that you can
recycle the sign after you're
finished with it.

Custom Shapes & Sizes

You can choose from any square
or rectangle to circles or ovals, or
if you prefer a custom shape, we
do that also. Keep in mind a ¼" to
½" white border will be around
the entire perimeter of your
custom cut sign.

Multiple Display Options

Falconboard is easy to display
by standing, propping up,
hanging, or mounting. Create
eye catching displays quickly
and effectively.

Digital UV Print

High quality UV printing on falconboard lets
you clarify your messange through brilliant
displays. Your customers can't miss this.

Rigid & Bold

Hexacomb construction and ½"
thick, your falconboard display will
literally stand out! White paper face
with a kraft color exposed edge
gives your sign a bold three-
dimensional look.
What Are Car Magnets?
Thin yet strong, car magnets can be attached to flat, smooth magnetic vehicle surfaces for advertising and growing your business on-the-go. Affordable, wind-tested and durable custom car magnets are the perfect choice for removable signage on personal or business vehicles.
Car magnets are 100% customizable and paint-safe so you can design your own magnet, stick them on a car or truck, peel them off, and reuse them again and again. With our world class printers you can rest assured your magnet will be fade resistant and will look great on your vehicle. No minimum required.