Durability
perfect for indoor and outdoor use

Our custom printed banners are made from 13 or 18 ounce, 100% vinyl material. They are manufactured with a weft inserted knit or an internal scrim for greater strength and durability, allowing for both indoor and outdoor usage in all types of weather.
Quality Production
from material to print to packaging

We start with the finest quality banner material and produce your design on world-class large format commercial printers using an eco-friendly four color print method with weather, fade, and abrasion resistant UV ink leaving your banner with gorgeous, vibrant colors.
Produced Fast. Shipped Free*
next day production & free shipping

We know that time is money and we don't like to leave you waiting. Production of your banner starts just moments after you order and is produced and shipped the next business day. And we offer free ground shipping on all banner orders over $75. *Excludes orders with rigid signs over 36" in either dimension.
Best-in-Class Guarantees
starting with your 100% satisfaction

Not sure if you'll like it? Your banner is backed by our 100% satisfaction guarantee. Think you can find the same product at a better price elsewhere? We have a price match guarantee. We've got you covered.
Flush Cut
When your banner is produced it is done so with a flush cut. Due to the nature of the material this is the only edge option for 18 oz vinyl banners.
Welded Hem
13 oz vinyl banners allow the option of adding a welded hem to the edges of your banner. This gives the banner a smooth finished edge. Welded hem is only available on 13 oz vinyl banners.
Single Sided
When printing your design on a 13 oz or 18 oz vinyl banner our design tool will default to single-sided printing, leaving the back side of your banner blank.
Double Sided
If you'd like your design to be printed on both sides of your vinyl banner this option is available on our 18 oz vinyl banners. Printing your banner double-sided on 18 oz vinyl will have a flush cut edge.
Pole Pocket
Depending on your end use you may want to include pole pockets on your vinyl banner. We currently offer optional 3" pole pockets on both 13 oz and 18 oz banners. Pole pockets are sewn and leave a flush cut edge. Pole pockets are compatible with both single or double sided banners. When grommets are selected pole pockets are unavailable.
Grommets
When hanging or attaching your banner during installation you may desire grommets on your banner. Grommets are optional and available on both 13 and 18 oz vinyl banners. Grommets can be added every 12-18 inches, every 18-24 inches, every 2-3 feet, or in the 4 corners. When pole pockets are selected grommets are unavailable.
Banner Options Summary

Installation
Banners are one of the easiest signage applications to install. Use cords, strings or bungees to attach the corner grommets to a stationary object, such as poles. You can also use screws and washers to install your banners to rigid backgrounds such as wood or concrete, or you can use zip ties or string to fasten them to fences or between posts.

Care
To care for your custom banners, regularly clean them with warm water and allow them to air dry before storing. To easily store your banners, roll them up and keep them in a dry area at room temperature. Any wrinkles in your banners should come out within a couple of hours in the sun or heat.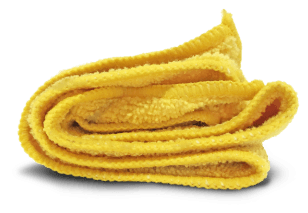 Additional Specs
Weight:
.09lbs per square foot (about the weight of 9 quarters)
Thickness:
.0156 inches (about the thickness of 4 sheets of copy paper)
Tensile Strength:
153 lbs x 149 lbs
Tear Resistance:
67 lbs x 64 lbs
Temperature Resistance:
-22F to 180F (passed the California State Fire Marshal, NFPA 701 Flame Test)
Estimated Lifespan:
3+ years with proper placement and care
Think of something we didn't address here? Check out our FAQ

page or give us a call at

1-678-884-6070

  to speak with a customer service representative.